Wedding Magician Brian Daly in action…
What's the most important thing to you, about your wedding ?
Does it involve everyone enjoying themselves, in a great atmosphere ?
Guarantee Fun and Laughter with Brian Daly – Wedding Magician…
"We had Brian at our wedding and everyone loved him, he's absolutely fantastic, just brilliant!
The guests were all laughing and enjoying themselves, I couldn't recommend him enough"
Mr  and Mrs Donegan, Dublin.
Newly-weds after Brian wowed the guests at their reception.
Your 3 options for wedding magic are…
1. Magical Wedding Reception Entertainment… "The Ice-Breaker"
Think about your reception – While you're busy getting your photo's taken… there's a room of guests, that might not know each-other, and the only thing on their minds is that they're hungry and they're expected to just wait around. Your guests are your responsibility and they can get bored very quickly. The reception can be the "Dead-time" of your wedding, unless you have Brian to break the ice, create atmosphere and treat your guests to some fun and unique wedding entertainment. "Mix and mingle magic" will have them laughing one minute and gasping the next.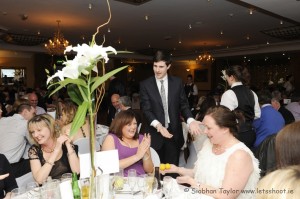 2. Table Side Wedding Magic…
As you sit down to have your meal and look out over all the tables, imagine hearing each table laugh as Brian hands someone back their wristwatch and they had no idea it was gone! Then people burst into applause as Brian creates a stunning piece of magic up close and even in people's hands.
People generally remember only 2 things about an event: The food, and the entertainment. Treat your guests to something different and special.
3. After Dinner Wedding Entertainment…
This is an ideal time to have Brian perform a spot of comedy and magic that wedding guests always enjoy as people come up to help Brian, the consequences are always hilarious. For the grand finalé the newly-weds join Brian on stage for a very funny trick that turns out to be quite romantic. This quick show lasts 15-20mins, perfect for getting everyone in the party mood.
"Dear Brian, I had the pleasure of your show last night. It made the night for everyone there. Just letting you know, I've passed on your details to all our event planners and social clubs. I've given it a huge recommendation"
David Dunne, Microsoft Ireland.
After seeing Brian perform comedy and magic after dinner entertainment.
Whichever wedding entertainment option you choose, early booking is necessary.
For a quick chat about having a wedding magician contact Brian Today
 PH: 087 9090 853     Email:  info@briandalymagic.com
Dublin 
Wedding Magician Brian Daly
 covers all of Ireland.