Brian Daly is Ireland's Top Pickpocket Entertainer

Don't worry its – Strictly For Entertainment Purposes Only – He actually gives more than he takes. For every item Brian steals, he gives the audience a memory of a lifetime.
Watch the video below and see why Brian is the best Pickpocket Entertainer in Ireland. He even manages to steal people's necktie's!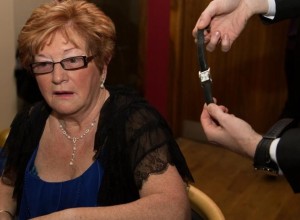 This unique skill is an ideal addition to corporate events, weddings and trade shows where you want people talking about your event for years to come. Imagine your guests reactions when Brian hands them a gift of their own watch!
Brian's expert pickpocket entertainment skills were recently featured on TV3 program  "Secrets of Ireland's Pickpockets"
And here's a quick clip of highlights from Brian's pickpocketing on TV and at corporate events…
Brian Daly – Pickpocket Magician on TV3 and at the Event Industry Awards
The video above was filmed at the Event Industry Awards where Brian was Nominated as
"Ireland's Best Corporate Entertainer"
And here's a quick clip of Brian stealing people's watches using sleight of hand as misdirection below…
An expert on Con artists, Card Sharps and Hustlers. The only difference between Brian and a real hustler is that Brian makes people laugh, and they make people cry.
Contact Brian today on 087 9090 853 or email info@briandalymagic.com