Blog
How to hire an entertainer for a charity event:
I've had people ask me to perform at charity events in ways that were: Rude, strange, egotistical, unfriendly and demeaning.
But I've also had people ask in ways that were: Charming, friendly, funny, and pleasant.
From my experience running fundraisers and as an entertainer, here's what you should know…

What you say: "We're on a tight budget" or "We have no budget for you at all"
What you mean: "Although I value your time and expertise, I am trying to keep our spending down"
What the entertainer hears: "We considered everything in our original budget valuable and worth paying for. Then thought of you last minute as something cheap, that isn't that important. I don't think you're worth paying"
Because what you may be unaware of is: Professional entertainers have been involved in thousands of events. We understand budgets and planning. We know when we're considered unimportant. We know you paid full price for certain things and we're not one of them. That hurts our little entertainer feelings.
Instead try: Charm – "Do you have a reduced rate for charity work? I hope you're available. We'd love to have you perform"
Even if you have no budget, don't start with …"We have no budget for you at all" This won't get you a good response. At least have the courtesy to ask for a reduced rate. Or try get someone to sponsor the entertainment. If it's worth having, it's worth paying for, as suggested by fellow magician Alan Hudson from London here in a blog too.
What you say: "We're a small charity in need, and we rely on volunteers and donations from people like you"
What you mean: "I hope you understand the pressure we're under"
What the entertainer hears: "I'm trying to put you on a guilt trip to do the gig"
Because what you may be unaware of is: Professional performers usually do more than their fair share for charities already. You don't know if the entertainer has done 10 charity gigs already this year. Or if they have a certain charity they are tied to, for all their charity gigs. Find out first.
Instead try: Tact – "We'd like to have you on board with this event. We know you could add something special to our event"
What you say: "It'll be great exposure"
What you mean: "The people here are likely to book you in future, this could be a win-win"
What the entertainer hears: "Nobody knows who you are, you obviously need exposure. I'm doing you a favour. I know nothing about your line of work. You should take the risk of people perhaps booking you after seeing you here, but I don't want to risk paying you"
Because what you may be unaware of is: Many professional magicians and singers and comedians you've never heard of, perform 300-400 paid shows per year. They get exposure at each and every one of their paid gigs, as well as getting money. Exposure isn't something they want or need. Exposure isn't something that only you can offer. It's available at every paid gig. Unless the level of exposure is literally 10,000 times something the entertainer can get at a paid gig, it just doesn't matter. And even then, there should be a budget for entertainment. Don't offer exposure. Mountain climbers die from exposure.
Instead try: Being specific about the amount of exposure, and stop trying to make the entertainer believe you're giving them their big break. If your "exposure" angle were true, you'd be my agent and getting me loads of gigs, not running the fundraiser. Try This: "We understand that you will be giving a reduced rate so to make up the difference, we can't pay money but we can add value on other ways: We can put a picture, video, description of your services, and a link on our website, in our mailing list of 4000 before and after the event, and on our brochures. We can put your brochure and business card in every single welcome pack and share all your information on our social media, before during and after the event. We will be recording the event and can arrange for your performance to be recorded also for use in promo material. All in return for a reduced rate."
What you say: "But it's just for half an hour"
What you mean: "We'd like to have something special like you for the guests, even if it's for a short time"
What the entertainer hears: "I don't understand that spending half an hour at this gig, means you could have to turn down a paid gig. I don't understand the performers business or schedule"
Because what you may be unaware of is: Even if it's a 30 min slot, the entertainer will need travel time and set-up time that could stop them from doing another show.
Instead try: "If it suits your busy schedule could you fit us in? We'd really appreciate it"
What you say: "So-and-so the celebrity is doing it for free"
What you mean to say: "We hope to find people who can share good will with us, such as so-and-so the celeb"
What the entertainer hears: "Why aren't you as nice as so-and-so? "
Because what you may be unaware of is: The multitude of reasons why so-and-so would do it for free and we shouldn't such as: They have a family or other personal connection to the charity, they owe someone a favour, they know the main organiser as a close friend, they know the venue owner, they know a sponsor etc…
Also… MAJOR POINT: So-and-so may not be too happy about you sharing the fact that they are doing it for free! Try not to annoy the person you've gotten to do it for free, and the person you're trying to get a bargain from.
Instead try: "We've gathered a lot of good will from celebrities like so-and-so. If working an event with them is something you'd be interested in, let us know"
What you say: "We saw you at X event and you were great, could you do our fundraiser for free?"
What you mean: "We'd love our guests to enjoy themselves like people did at your show"
What the entertainer hears: "I saw you perform and don't think you're worth paying"
Because what you may be unaware of is: That's a stupid thing to say.
Instead try: Not saying that. It's a stupid thing to say, especially to someone you want to work with
And the bottom line: Having played the part of both a fundraiser organiser and an entertainer, I have never heard of a great experience;  for your funds or the guests, when someone does it for free. A paid, professional performer at a fundraiser will have your guests in a great mood, which means that they are far more likely to donate, buy raffle tickets, attend next year and bid on auction items. A paid professional entertainer will be an investment if you pick the right one. They will add to your cash income from the event.
But if you get some amateur to do it for free, they could destroy the mood in the room by being unprofessional to your guests. Which could spell disaster for the bottom line of the funds actually raised. Invest in the right entertainer and everyone is a winner.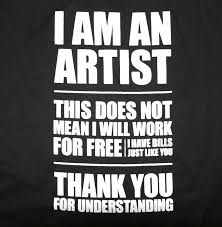 You need to know the following before you read this:
1. The names, ages and small details of this story have been changed to protect the privacy of the people involved.
2. I wish I could tell this story better. I hope these words do the story justice. I'm not the soppy type and don't mean for this to be a soppy or sad story.
I've been performing a routine in family magic shows since 2008, where I get a Dad from the audience to come up with his daughter. Dad plays the part of a King and I give him some challenges to pass. And if Dad can pass just one challenge, we turn his daughter into a real life princess, with a crown, an official scroll and everything.
The challenges are all in good fun and involve the Dad passing tests of: Bravery, skill, magic and finally attempting some impossible mind reading.
It's a fast paced routine with a lot of messing and a lot of laughs, as Dad is trying his best to be the hero, but failing time and time again.
During a show one day, Joe the Dad comes up to help along with his little 6 year old girl Sophie.
Having done the usual routine where Joe get's 4 challenges, and he fails the first 3 (because I set it up that way, not because Joe's an idiot). Everyone is laughing and having a good time, I notice that Joe is getting genuinely nervous as he fails more of the challenges.
This isn't the normal kind of nervous people get when standing in front of an audience, but the kind of nervous you get when you're heart is racing, your hands shake, a little sweat appears on your forehead and you feel a little sick. Genuine nerves. Just one step away from shock. I look at Joe before he does his last challenge and notice he's gone pale, his hands are shaking and he's breathing is shallow and fast. After the show, a friend in the audience who was watching, told me he thought Joe was crying. But I didn't notice it at the time.
I decide to wrap up the routine as fast as possible, keep an eye on him, and be as professional and nice to Joe as I could.
Dad of course got the final test right (By magic of course, even Joe didn't know how he got it right)
The crowd cheer as I say "We have a princess!" I look at Joe again, and see him exhale and his shoulders relax as the tension releases. He starts to grin from ear to ear and his eyes light up.
I place the princess crown on Sophie's head. She runs across the stage and hugs her Dad. Sophie, Joe and I holds hands and take a bow. I high five Joe and get another round of applause for "his daughters hero" as he brings his princess back to their seats.

The show ends there. But the story doesn't.
After the show, Sophie and her Mum Joan and Sophie's little sister come up to me, to shake hands, say thanks and take a picture. I oblige. As we take the photo, I notice Dad, Joe is sitting alone in the seats. I ask Mum to go get him to join us in the picture. Joan tells me "He wants to be left alone" I thought it was a bit unusual but carried on. Mum sends the kids back to Dad, she looks me in the eye and says…
"Thank you again. Our Sophie is terminally ill, and her Dad has been feeling helpless for years. He's overwhelmed because now he feels like her hero"
I didn't ask why Sophie was so ill, I kind of just stood there silently a bit stunned. And a bit embarrassed that I was just messing about, having a laugh, doing the normal act and had no idea what impact it was having.
For a few moments in that families sad story, there was a bit of laughter and happiness.
I wasn't sure about sharing this story, but the family have been in touch since to say thanks, and Mum said they've been telling the story every chance they get, and so should I. For them it's a happy story so that's how I'm going to think of it too.
For other family magicians and performers reading this…
If you look at the statistics – The hundreds of shows you've done. Times the number of people at each. It works out that a similar thing has in all probability, happened to you with someone you've performed for. You just didn't know about it.
The only difference is, by some fluke I found out my audience volunteers back-story.
And it also means you have the opportunity to have this effect on someone in every show you do, ever again.
Here are the most frequently asked questions about Brian Daly and his magic skills…
Are you in the magic Circle? I am in the Society of Irish Magicians which is the Irish equivalent of the magic circle and have been a member for over a decade. I'm also secretary of the Society which means I know the secret handshake. Really.
How often do you practice? At least a little bit every day, and some days I practice all day.
How often do you learn new magic tricks? Constantly. I'm always putting new numbers into my act and updating my repertoire.
Do you invent your own tricks? Yes, more and more frequently I create my own minor miracles.
Do the tricks ever go wrong? Ha ha a few times yes, I've been caught while I was learning to steal peoples watches and pick pockets, but I don't take it too seriously and I just got on with the show and making sure everyone had a good time.
Where did you learn magic? In prison. Not really, it started in kindergarten, then I got magic sets and books and joined the Society of Irish Magicians and it turned into my full time job from there.
Where are you based and where do you work? I'm based in Dublin but I cover the entire island of Ireland and regularly travel to perform at festivals around the country.
Do you have a rabbit? Actually no, but I do have a psychic skunk, yes you read that correctly. Her name is Sally and she's a bit of a lunatic, does impressions and circus tricks and for the grand finale she reads peoples minds for real, it has to be seen to be believed really.
Do you have a real job? If by "real" job you mean working 9-5 in some heartless corporation to make some fat cat in a suit rich, then I'm happy to say, no I don't have a "real job". Magic is how I make my living. I am a professional messer.
What's your best trick? Tricks are like songs, each person has their favourites but it's hard to say which is best. Personally I like taking people's watches without them seeing, because if they act up or heckle, I could just keep their watch.And last but not least, the top question Brian gets asked…
How did you do that? That one will have to go unanswered for now but… if you'd like to learn some cool magic tricks check out my "How to do Magic DVD" here.
If you have any other questions for Brian feel free to give him a call on 087 9090 853.
or email info@briandalymagic.com